UKL is one of the UK's leading suppliers of commercial winter services. We understand the importance of remaining open and accessible. That is why we have developed a range of services to ensure that no matter what winter brings, we are able to provide a service that meets your needs.
Our proactive and preventative services are typically delivered from October – April by a dedicated team of trained professionals equipped with the latest gritting and snow clearance machinery fitted with GPRS trackers. Our clients and operational teams are fully supported by a dedicated 24/7 emergency and helpdesk and backed up by Public Liability Insurance of £10m.
Current legislation requires that all employers have a statutory duty of care responsibility for their employees and for those people visiting their premises. Given today's compensation culture, it's important that every organisation protects itself against the risk of potential negligence claims and the associated financial costs to the business.
Our existing client base includes include many nationally recognised names associated with the following sectors;
Supermarket Chains
Retail & Shopping Complexes
Office & Business Parks
Property and Facility Management Companies
Managing Agents
Defence Infrastructure
Industrial Parks & Trading Estates
Logistics & Transport depots
Car Parks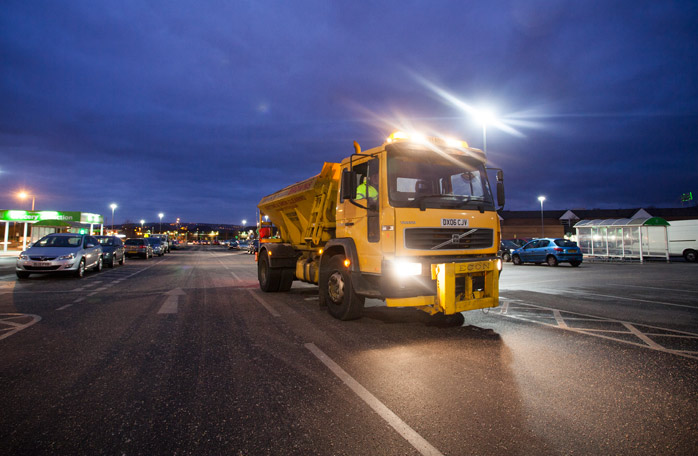 Services
We provide a wide range of competitively priced winter maintenance services designed to meet your needs and ensure maximum safety on your facilities at minimum cost. These services include;
Accurate Met Office 'Open Site' postcode specific weather forecasts
24 hour gritting and snow clearance service 7 days a week
Supply & refilling of salt / grit bins both scheduled & on demand
Sale and delivery of salt bins and bagged salt (25kgs)
Our aim is to deliver fast, cost effective and reliable winter maintenance solutions tailored to our clients requirements. Call 01606 841080 to discuss your business winter service needs.