All of us at UK Landscapes are environmentally conscious and we want to create a more sustainable future. Reducing our carbon footprint and the overall impacts is now an essential everyday business driver.
However, sadly some emissions are unavoidable at the moment. 'Giving Green Back' is a company initiative to help re-balance and offset our business carbon emissions.
We aim to work in partnership with our longstanding clients and local communities to replenish and redesign landscapes to create a better and more sustainable future.
All of our projects are cost neutral and there are three main ingredients to our 'Carbon Capture' recipe; Trees and plants, Wildflowers and Bees.
In some format, all of our projects will be working towards increasing biodiversity by installing one of the three or all of these items. Further to this initiative, UK Landscapes will continue to work in the most sustainable ways to drive our 'Green' recovery.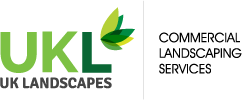 News | Privacy Policy | Sitemap
© Copyright 2023 UK Landcapes Limited. All rights reserved.
UK Landscapes Ltd. No 10 Holly House Estate, Middlewich Rd, Cranage, Cheshire, CW10 9LT.
Tel: (01606) 841080 Fax: (0845) 459 0447 Email: info@uklandscapes.co.uk
Vat No - GB 701 2720 88